Polycom DMA 7000 – Increasing Bridge Efficiency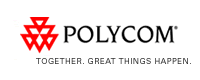 Some weeks ago in September 2008, I met in a video session with Derrick Fitzgerald, the senior product marketing manager for Polycom, based in Atlanta. Derrick and I spoke about the DMA 7000 call distribution solution. This software appliance package is licensed to coordinate and distribute multi-point and multi-media conferencing services among a series of corporate arrays of conferencing servers and MCUs that before now, have not really been able to work together as a single corporate-wide or service provider-wide resource.
The basic problem the product is designed to address is one that I had experienced in audio conferencing services as a user at 3Com. Here we had conferencing servers on the East coast, on the West Coast and in the UK. The trouble was that the conferencing servers were highly utilized in early mornings as executives held staff meetings, or customer conference calls or VAR training or the like. Yet, early morning in the UK, in Massachusetts and in California happen as many as 8-10 hours apart, so it might be cheaper and therefore more efficient to figure out how to utilize idle bridge capacity in other regions than to purchase capacity for each regions' peak load.
That's where the DMA 7000 comes in. It supports both control of video briding, VoIP (H.323 originated calls) or PSTN access through a MGC gateway. SIP support is planned in 2009. The DMA 7000 keeps track of the operational state of every conferencing port in the company and can divert sessions on the basis of various loadbalancing options:
Least used – keeps the equipment sane
Round robin – the fair rotation
Disaster recovery mode – I'd normally accept it, but I'm out of service/full, go next door
The platform enables convenient servicing too. Users can schedule a bridge for maintenance, and conferences are diverted prior to the window commencing. Then the technician can easily remove the bridge from service.
In the product's first release (due for early release in 4Q08), the feature set is quite service provider oriented – controlling the scheduling of both ad hoc and scheduled meetings – as many as 10 MCUs and some 1,200 ports maximum. Considered to be interoperable with any MCU, the DMA 7000 can enable more efficient sharing of capacity. Something that many video Managed Service Providers will value.
From a pricing perspective, users should not be surprised that infrastructure is expensive, and in the case of this special purpose load controlling application server, the price starts at $84,000 MSRP.
UPDATED January 20, 2009: The DMA 7000 is now shipping, and lists at $69,000 MSRP.
This post has already been read 0 times!
Edit