Polycom Simplifies and Boosts HDX Lineup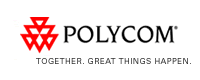 Polycom is stepping up its game and using the time leading up to the close of the Cisco-TANDBERG transaction to its fullest advantage.
The last few months have seen updates to its technology alliances – Avaya, Juniper, LifeSize and Siemens. Polycom has been both strengthening its offerings to compete with the inevitable Cisco-TANDBERG combination, and strengthening the offerings of Cisco's UC and networking competitors to minimize any product or technology gap that the acquisition might actually create.
Earlier this week, Polycom announced a new marketing initiative called UltimateHDTM which delivers a simpler product definition for the HDX line as part of a complete refresh of the firm's bread-and-butter room video conferencing lineup. The HDX (6000, 7000, 8000 and 9000 models) now includes the following capabilities as INCLUDED:
1080p30 or 720p60 including support for H.264 HiProfile which can deliver excellent HD video at reduced bandwidth rates. This is provided with the 1080p EagleEye camera and a software update on certain qualified codecs.
HD Voice leveraging Polycom's StereoSurround spatial audio technology.
All of the previously priced-separately content sharing application software such as the weatherman feature and 720p30 for content sharing on the HDX 7000, 8000 and 9000 units, while maintaining at least 720p and often 1080p in the main screen.
Native integration with Microsoft OCS environments. HDX units can now appear in the Exchange server as a resource for integrated scheduling so when a user books a conference using the scheduling feature of Outlook, they can initiate the session at the appointed time using the IR remote selection of the meeting commence button on the screen. Users can also see the schedule for the HDX unit from the HDX operations client.
Call recording is supported for PC playback, if the customer has a Record & Subscribe server for PC browser-based playback.
Multipoint conferencing requires additional hardware.
Polycom also announced the HDX 6000 View Media Center which includes a camera, 42″ LCD monitor, tabletop stand, high fidelity 60-watt sound system with subwoofer, integrated microphones and IR remote control for $9,999 MSRP.
The HDX 6000 standard package is $4,999 MSRP which can include an electronic zoom camera (versus optical zoom), microphones and codec. Monitors and stands extra.
This post has already been read 0 times!
Edit