Polycom VVX 1500 Is A Unified Communications Phone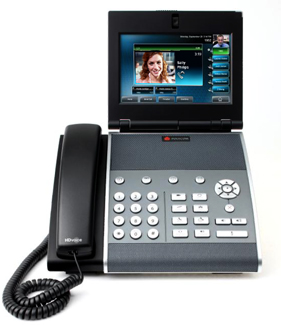 The Polycom VVX 1500 Business Media Phone, is the latest video phone but it quite different than other attempts at this iconic category. It seems that whenever there's a report of a new videophone, there's a reference to the AT&T videophone first exhibited at the 1964 World's Fair in New York. And to remind me of that great idea that never quite makes itself profitable, the Wall Street Journal today posted a story about the Jet Pack. Fortunately, that's a different story.
First of all, the VVX 1500 is priced to sell. With a MSRP of $1,099 many service providers will find the platform a welcome addition to the high-end of the Polycom-branded business IP phone lineup. Of course Polycom hopes that some will choose to subsidize the phone (a la wireless operators) to help drive sales, but that remains to be seen how that would be useful in a hosted services market.
The VVX 1500 boasts a 7-inch (diagonal) CIF touch screen video display so users don't have to count on the control pads to activate or deactivate features presented on the screen. Just click on them! The device can publish presence results of coworkers in the company directory for example, so long as the presence service supports SIMPLE. So far, only LCS has been tested, but I'm sure Polycom will figure out how to expand this tested list pretty quickly.
The device, like the latest revs of the IP SoundStation portfolio is SIP-oriented and IP addressable for XML-based information applications called the Productivity Suite. This is one area where Polycom hopes to encourage others to innovate, but creating a developer ecosystem creating and supporting applications for Polycom phones is proving harder than it looks. Polycom sounds like they are planning an AppStore, but there were no details at product launch. At Voicecon, I hope to understand more about the challenges and opportunities in this area. Watch this space for more details in early April 2009.
Video-wise, the device supports SIP signaling, H.263, H.263+ and H.264 video algorithms. Tim Yankey, the Director of Product Marketing noted that with a 7" screen, the CIF resolution (352×288) capabilities are more than adequate for a high quality image, without consuming scads of bandwidth. There are no external ports (other than POE-based Gigabit Ethernet and the USB i/f) for a monitor or camera other than the built-in ones, so this should be fine, particularly for phone-phone video. Going phone-room might cause some indigestion in the video quality, but that may be contained by the small branch-office type bridges discussed and launched earlier this year.
Couple of call scenarios were discussed:
When a VVX 1500 user calls another VVX 1500 user, the video session immediately connects the video cameras, microphones, speakers and display.
When a VVX 1500 user calls a non VVX 1500 user, the called party's picture may be displayed if provided by the Outlook server.
When the phone is not in use a screen saver, using graphics loaded in by the USB port can cycle through and for longer periods of inactivity, the screen is shut off. Whenever the camera detects motion, the screen is energized and ready to call.
Tim also told me that the most useful feature making this system more likely to be adopted in major enterprises is the phone handset. This provides a high degree of audio privacy for users who work in open floor spaces such as cubicles, where speaker phones, common with executive video systems, are a major distraction.
Although Polycom is trying to position this as a Business Media Phone (I really don't get this category name and don't think this will stick in the market) as something better than another attempt at a videophone, I really think this device has potential as a Unified Communications Phone. No other IP phone can indicate user on-hook/off-hook presence, or natively supports video and voice. This makes it unique, but what will really make it a leader is:
if the user could use the touch screen as a soft keyboard so users could see and type reply IMs to coworkers,
if the USB interface could support a keyboard so users could see and type reply IMs to coworkers,
If the user could send and receive multi-media messages – video recordings.
The VVX 1500 is a very interesting platform introducing a new franchise into the Polycom portfolio that is at the cross-section of the company's voice and video product lines and heritage. On that basis alone, the potential to cross-sell through its channel structures – selling more voice-oriented products through video channels and selling more video-oriented products through voice channels is both a creative and welcome strategic alternative to the telepresence arms race that have until now, preoccupied the market's imagination. Polycom is now able to uniquely introduce a whole new market to the idea of video communications leveraging its well-established brand and channel in voice. Brilliant.
This post has already been read 0 times!
Edit