Psytechnics Comes to Beantown

On a sunny afternoon in the beginning of August 2007, Brockmann & Company took a meeting off Copley Square with Anthony Finbow, CEO and Dr Mike Hollier, CTO of Psytechnics, the voice and video quality company.
As a preamble to the firm's participation in Fall VoiceCon August 20-23, a trip to the Boston area to see the New Hampshire office, meet customers and partake in an analyst meeting or two made the effort most productive. Our meeting centered on the history of the firm and the dynamics of their market plans.
With a heritage as the voice quality lab of BT the company has accomplished a great deal since their spinout in 2000. With backing by BT, 3i, GIMV and New Ventures, the company has continued to innovate with 35 patents, licenses of their technology to 300+ service providers including Skype and a new portfolio of Quality of Experience products. All of which are centered around their predictive algorithms for Mean Opinion Score based on a database of a half million samples.
As Michael explained, the only way to really assess the users' experience is to ask a sample of people to listen to a conversation and then rate it on a five point scale. This is the essence of the MOS method. The core of the company's Experience Manager product is to assess more than the parameters most commonly associated with VoIP or video quality – jitter, packet loss, delay – which is where the typical quality engineering tools stop.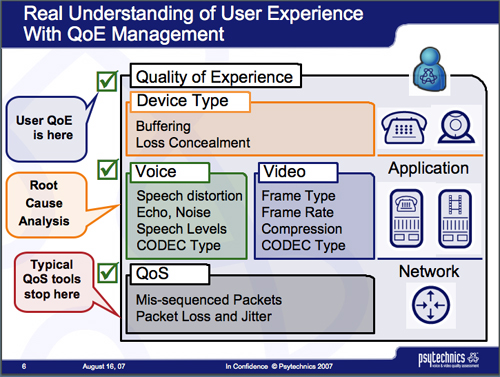 Psytechnics takes it farther and closer to the user. Users most often complain about speech distortions, annoying echo, low speech levels and codec mismatches, yet few of the QoS tools can provide insights around these misbehaving elements of the system – gateway DSPs, firmware and the network operational policies that affect these experiences. And even more important is to consider the contributions of the endpoint in terms of buffering limits and loss concealment processes.
Awareness of these factors as well as being able to interpret their performance and state as it pertains to a scalar metric such as the MOS is a powerful capability at taking network diagnostics and troubleshooting to its next level. With agents deployed at or near major network elements or near gateways, the Experience Manager is a great solution to provide reports, alerting out-of-threshold conditions and otherwise empower the IT manager responsible for voice quality.
Markets Served
Psytechnics' customers are proof that not all VoIP problems can be solved by adding more bandwidth. Clearly, having the tools to be able to finely diagnose, adjust and monitor the performance of the many components of the VoIP system as it relates to user experience is an important step forward. Recent advances in reporting functionality have made the information relevant to IT executives that use the reports to monitor SLAs with service providers. Users of Psytechnics can take their VoIP service quality for granted.
The Experience Manager is available today only for the largest of networks and implementations. It is a power tool in the hands of the trained network quality engineer.
The Psytechnics philosophy of 'quality of experience' needs expression in networks for small and mid-sized businesses who don't have a department of quality engineers, but need to easily and quickly diagnose the cause of experience-affecting problems at the per-session, per-user level. The small business and MidMarkets have been big consumers of VoIP technology over the past decade, but often lack the resources to correctly tune their implementation for the highest quality experience.
Who Has Responsibility for Quality?
This class of customers have tended to rely on their resellers and equipment vendors to tune the operational aspects of their implementation, but often with limited success at improving users experience. That's because converged networks, IP PBX and real-time applications have complex interactions with network elements, other network traffic and user behaviors. IT managers need simple and effective tools to troubleshoot in-the-office implementations, otherwise they run the risk of frustration, low personal performance ratings, dismissal and low user satisfaction.
Brands serving these segments have a role to play too since they run the risk of being unfairly blamed for poor quality.
Leading brands will create solutions using a Hardware-as-a-Service model to create quality management services for their reseller community to sell and deploy. In this model, the IP PBX in the small business is enabled with an agent presenting operational-oriented meta data to the service central which facilitates the diagnosis of the problems in the network. Functionality ought to include reports and alerts to the reseller and perhaps to the client for action. In this way, the brand is able to create a service for their resellers to resell and participate fully in and add value to the equipment sale and deployment.
As a leader in promoting quality of experience, Psytechnics is well equipped with the key ingredients – technology, credibility, customers – to enable this large and demanding market.
This post has already been read 0 times!
Edit