Quality of Mobile Communications
What will it take to improve the mobile business users' experience?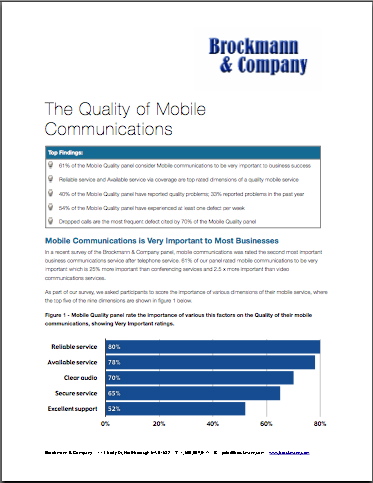 In a recent survey of the Brockmann & Company panel, mobile communications was rated the second most important business communications service after telephone service. 61% of our panel rated mobile communications to be very important which is 25% more important than conferencing services and 2.5 x more important than video communications services.
Yet, despite its importance to business success, business users are not satisfied with the quality of their mobile communications services. Only 11% were very satisfied with the mobile experience. This compares with 31% of users that were very satisfied with their telephone communications experience.
For business users, improving mobile communications is more about improving session reliability and improving availability through better coverage and less about cool apps, facebook and twitter updates. It's about reducing the frequency and severity of outages and service defects and otherwise making mobile communications a dependable communications option.
This post has already been read 0 times!
Edit