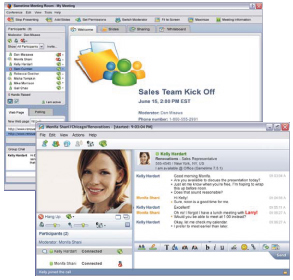 In some of my other posts about IBM, Lotus and Sametime earlier this year, I've written about the IBM plan and discussed the company's renewed investments in Lotus and Sametime as a cornerstone of the company's Unified Communications and Collaboration UC2 strategy.
At VoiceCon they took the Sametime story a little deeper, segmenting the instant messaging and presence product portfolio into an Entry, Standard and Advanced offering.
Of course, Sametime 7.5.1 which is the latest release supports Mac, Windows, Linux users and includes mechanisms for click-to-call, click-to-conference and several other features that flow naturally with the IM platform as the center of the strategy.
IBM reaffirmed their commitment to NOT doing VoIP systems, leaving that space to their partners, but talked about a need for a SIP proxy/registrar server to coordinate functionality integrations for peer systems. IBM is releasing a SIP softphone as part of their offering. IBM also committed to making Sametime an integral component of the System i IP Telephony program involving the 3Com and Nortel IP Telephony systems, and integrating Sametime with Microsoft Exchange too.
Sametime Entry: secure IM, Presence, imbedded functionality now, separately available in 1Q08
Sametime Standard: secure IM, Presence, integrated web conferencing, VoIP, Video, Location services, file transfer, screen capture, federation with other IM services (including SIP-based public ones), mobility, available as v8.0 in 4Q07
Sametime Advanced: persistent chat, broadcast suite (SkillTap, Instant Polls, alerts), instant share, location services, available 1Q08
Sametime Unified Telephony plugin: enabling click-to-call, conference, aggregated IM, phone and calendar presence, incoming call handling rule settings, gateways to legacy PBX, SIP, CSTA, available 2Q08-3Q08
Of these features, my favorite is persistent chat which allows users to retain chat over days, months, years. This'll be useful in expert-type collaborations between marketing and sales, or engineering and sales engineering resources.

Also, the SkillTap component of the broadcast suite (Advanced) lets users integrate chats into FAQs and wikis, and includes rating feature for usefulness or helpfulness of the article.
IBM is not standing still in this space. Clearly, an aggressive development investment is leading to more extensive features, greater integration within the customers' workflow and environment regardless of what brand of email, telephony or conferencing systems, stratified products to simplify functionality for those not needing the advanced capabilities of an intensive collaboration environment and frankly tons of more value for customers. With these new products, IBM is clearly showing why they're a leader in the enterprise IM space.
This post has already been read 0 times!
Edit