Score=70% – IBM buys BigFix

IBM announced July 1, 2010 their plan to acquire BigFix, a privately-owned provider of IT operations and security policy enforcement (patches, power management) infrastructure management software that enables the management of laptops, desktops and servers. The 200-or-so employees will become part of the Tivoli management software unit, once the deal is approved by regulatory agencies.
This is another in a series of IBM acquisitions targeting software companies. A sound strategy, particularly as the recovery takes hold that we've written about before is to acquire customers. Overall, IBM plans to spend about $20 billion to support its acquisition appetite over the next five years. This deal is thought to cost $400 million, although it is not an announced detail.
Here's the Brockmann scoring on the deal:
Strategic Fit: 5/5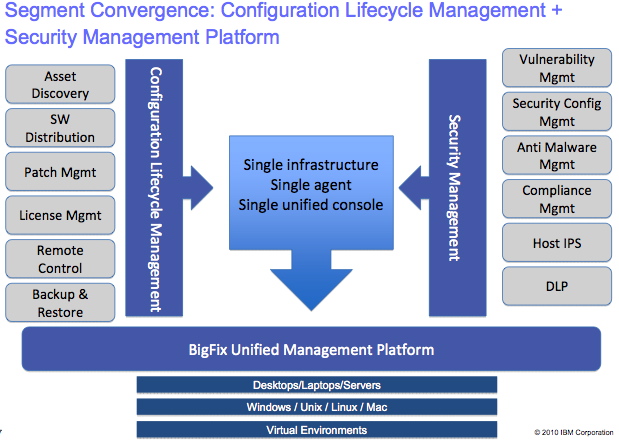 BigFix has 650 customers representing more than 6 million desktops, servers and laptops under management including leading brands in retail, entertainment and financial services. The company has been around since 1997. As the graphic on the left from the presentation shows, the BigFix Unified Management Platform enables two classes of services – configuration lifecycle management including asset discovery, software distribution, patch management, license management, remote control, backup and restore of application data and security management involving vulnerability, security configuration, all the anti- services, compliance and intrusion prevention services.
Up to now, IBM offered professional services to enable these capabilities using BigFix and other vendor products as a service, or offered a segmented approach that allowed some services for certain classes of devices – software distribution for Lotus clients for example – but not this scope of services for this scope of computers and OSes.
This is a huge issue for larger organizations because the sheer scale of management requirement is beyond most vendors and most applications.
Timing: 5/5
IBM's stated roadmap and direction for the integrated BigFix-IBM Tivoli business service management will position IBM product and professional services teams very strongly into the post-recovery timeframe. They've laid out a three phase approach where Phase 1 is a bluewash, Phase 2 is the introduction of an integrated foundation offering to IBM channels (think coexistence) and Phase 3 is a complete integration with Tivoli. No doubt customers will look to this product as a must have capability in managing their IT infrastructure and extracting every single dollar of cost and vulnerability as they can. I'd expect budgets in larger organizations to include this offering as early as 2011, particularly if IBM can deliver phase 2 solutions in 1H11.
Customer Demand: 2/5
What CIO doesn't see IT asset management, compliance and security policy enforcement management a big issue in reducing costs in 2010?
Despite the appeal of this solution, there are two big segments missing from the picture.
1. There is no mention of mobile devices. This is where the IT department is losing the battle with users and with the accountants since users buy whatever they want and tell IT to figure it out so they can get the email and the apps they want. Mobile devices is the domain that we see is quickly becoming the computing space of the future.
2. There are no effective solutions for small or MidMarket companies. BigFix is a BigFix only for the largest of enterprises: average customer deployment = 9,230 devices. What does IBM offer for the rest of the market?
Potential: 2/5
IBM will be able to win several new customers, but to really explode this market, they need to win customers in telecom and higher education; markets where everything in the business is a computer.
Nevertheless, this is a nice comfortable business that IBM infrastructure and industry sales people, channels and product teams understand. It's not growing by a 10x multiplier, but it is a no-brainer fit with the large enterprise segment that is where IBM is the most comfortable.
Score=70%.
This post has already been read 0 times!
Edit