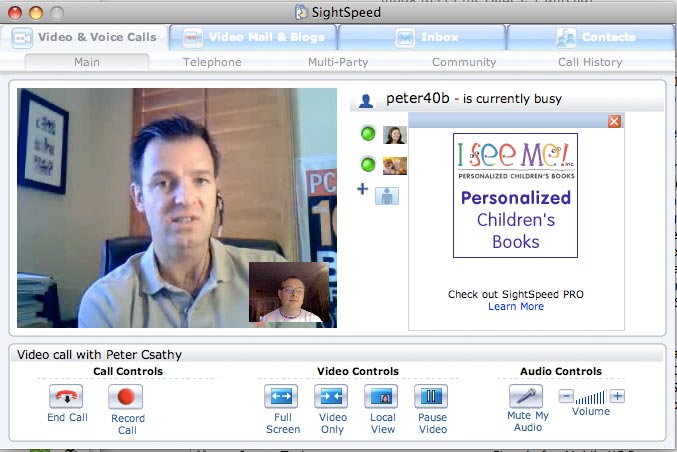 Peter Csathy, (shown left) CEO of SightSpeed and I had a desktop-to-desktop video session the other day. I used the personal client, which I have had on my desktop for several months. The personal edition is an advertising-supported model and is great for person-to-person desktop video conferences. It runs on both Mac and Windows client and is a self-developed implementation.
More recently, SightSpeed announced an offering for business users. Cleverly branded 'SightSpeed Business' the offering couples desktop video conferencing with multi-point video conferencing of up to four endpoints, file sharing-style collaboration, unlimited videomail or videoblogging and 500 minutes of audio-specific VoIP service from SightSpeed's partner, Coyote. The monthly package, available at $19.95/user/month (less if purchased in quantity) is the first business-specific offering from the Berkeley CA company.
Based on SIP, the company enters the business collaboration market with a view to ensure that their offerings do video first. With plans for application sharing in a future release, the product is attractive to small businesses that want and need visual as a major enhancement to the audio collaboration experience.
Clearly, with the proliferation of built-in web cameras, and the power of inexpensive broadband connections, the collaboration environment is only going to get more interesting.
Related reports: Desktop Video Conferencing Experience.
This post has already been read 0 times!
Edit