Sony-Ericsson Xperia X1 and OnRelay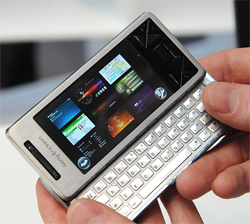 OnRelay and Sony-Ericsson announced a collaboration to offer the OnRelay Mobile PBX software on the Sony-Ericsson Xperia X1, a slideout keyboard Windows Mobile 6 smartphone with push email. Timed to coincide with the device manufacturer's branded racing event – the Sony Ericsson Volvo Ocean Race VIP Event which was held in Stockholm Sweden last month.
Although it may seem unusual to align an enterprise mobile UC vendor with a mobile device, Sony-Ericsson were very much able to present their premium device with a premium enterprise-class application. Both of these capabilities appeal to enterprise-oriented mobile operators and to large enterprises, both of whom were in attendance at the race. Although the idea of an enterprise-oriented mobile operator is new to North Americans, it is quite the standard marketing goal in European and Asian markets which tend to be more mature in their marketing anyways.
The exposure to the Sony-Ericsson customers also coincided with OnRelay's announcement of commercial availability of their hosted MBX option, called Unified MBX which is particularly suited to enabling a mobile operator address enterprise communication needs – even beyond mobile UC – to include IP phone services. This is something that some enterprise-focused mobile operators consider valuable.
Check out this video review.
This post has already been read 0 times!
Edit