The Manager's Recession Survival Guide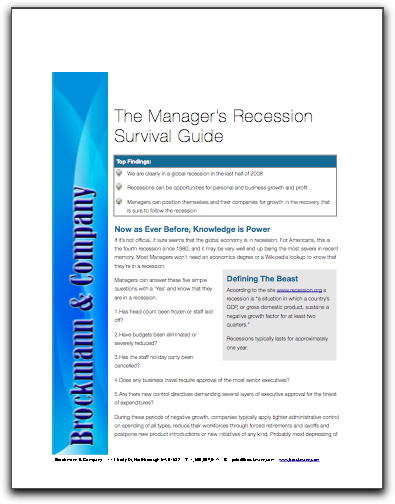 This report reviews five tips to help manager's survive and prosper during the recessionary times we have found ourselves in the winter of 2008.
Here are the five tips:
Cash is king – tighter fiscal controls, travel restrictions, elimination of budgets and project cancelations are all about preserving cash.
Do more with less and be seen to do more with less – your response to the reduction in available resources must be met with the higher productivity that comes from working smarter.
Improve communications with everyone – everybody is stressed and anxious, so being seen instead of only heard can communicate non-verbal information that reduces anxiety. Use video conferencing since travel costs cash.
Know your top dogs – do performance evaluations of your team. Set expectations for your team and let them know them. Rank order team members so you know whom you can count on and why you can count on them in the future recovery.
Be prepared yourself – there are no job guarantees, so conserve your own cash and develop a plan B for just-in-case you get laid off.
This report is also available as a Brainshark Content Network presentation here.
To download this report (no charge) you will need an account. Learn about the account creation and download process here. Review our Privacy Policy. Create your account, login and download.
This post has already been read 0 times!
Edit