Zultys iConnected brings Mobile UC to iPhones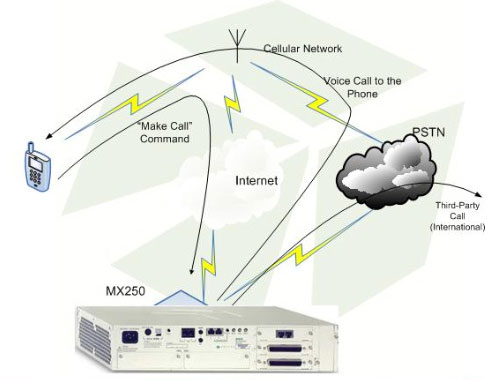 Zultys, one of the many independent small-medium Unified Communications vendor, provided an overview and demonstration (through a simulator) of the integration between their desktop UC environment called MXIE and a new client for the iPhone.
With networking shown in the graphic on the left, the user can signal the IP PBX (MX250 shown) using app commands that include ordering it to make a phone call to itself and to a remote user on the public telephone network, or another user on the enterprise network. Users are presented with services for presence and instant messaging, least call routing when the IP PBX is networked as part of a SIP trunking service (to engage service provider PSTN gateway ports in remote jurisdictions that to do over mobile network would cost $$$$), corporate directory access, calls directly from the iPhone directory, email from the iConnected app, mid-call features for transfer and the like.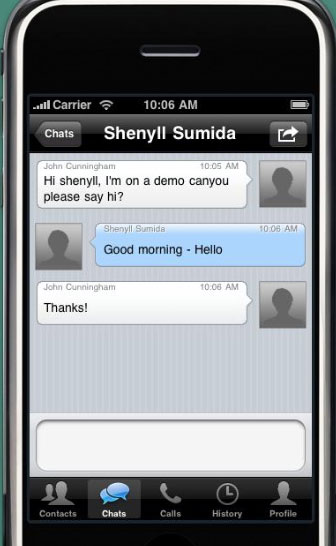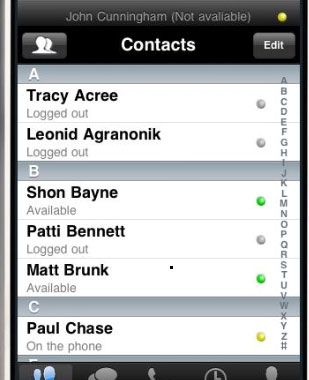 Like all 3rd party apps on iPhone OS 3.x, the app only runs when specifically invoked by the user, but despite that limitation, the scope of features, when active, are consistent with the company's previously announced MXmobile for BlackBerry.
One feature that seemed quite useful was the integration of the presence feature with the iPhone Contacts app. The remote user's presence is indicated with both colored dots (Green means available, yellow means telephony-busy or idle, gray means unknown in that the target user is not logged in). The little bit extra information of knowing that a target user is busy on the phone can help with deciding the best communication method to use, or whether to wait and check again. This improves probability of actually completing the connection as opposed to getting voicemail (yuck).
Developed with the help of a third party iPhone specialist, Zultys is broadening its product appeal and aligning its core offering with features and functions that users increasingly expect in modern business communications.
This post has already been read 0 times!
Edit